I'm sure we'll get 100% agreement: getting lag spikes or disconnects in the middle of match is one of the most infuriating experiences for gamers.
While sometimes you can't really control lag and spiking, making sure you get a top notch router will make sure that the lag isn't because you got something cheap. It might just very well save you from smash your nice gaming keyboard.
Obviously, a wired connection to your gaming machine is going to be the best way to get great results, but sometimes your room layout or housing situation requires you to go wireless.
This one took us a while, but after spending dozens of hours looking at options and making sure we recommend optimal settings, the best router for gaming is the NETGEAR Nighthawk X4S AC2600.
Our pick – The best router for gaming is the NETGEAR Nighthawk X4S for its speed, range and feature set for the price.
Check Price on Amazon
What we liked
Futureproof and FAST
Has all the features
Will suit almost every use case
Reasonable pricing
What we didn't like
Can be a bit overkill if you only have a few devices
Software works well but a bit ugly
Of course, there are plenty of viable router options, we'd be making a mistake if we only made one recommendation.
The Best Wireless Routers for Gaming 2018
Table of Contents
This is the criteria we think is really important in a router.

Technical Specs
| | |
| --- | --- |
| WiFI Bands | Dual (2.4 GHz and 5 GHz) |
| Band Speed | 600 Mbps/1733 Mbps |
| Processor Speed | Dual 1.7 GHz |
| RAM | 512 MB |
| Antennas | 4 |
| LAN Ports | 1 gigabit WAN, 4 LAN |
| Other Ports | 2 USB 3.0, 1 eSATA |
| Beamforming | Yes |
| Bandsteering | Yes |
| MU-MIMO | 4×4 |
Our Pick: The Netgear X4S is the best overall gaming router
The Netgear X4s is our default recommendation for gamers looking to ugprade their wireless experience. It's one of the fastest routers out with great range and features at a price that won't break the bank. It's pretty much ideal for any gamer outside of large households with a dozen plus concurrent wireless devices going at the same time.
One of the fastest routers in market
The X4S is a speed demon, what this means is file transfers, media streaming and game streaming are all going to come through in full fidelity, as long as your internet connection can handle it.
The dual core 1.7 GHz Qualcomm processor and 512 MB RAM are really put to good use in the X4s.
In real world tests the X4S is either the fastest or second fastest in both 5 GHz and 2.4 Ghz at multiple distances and walls. We like the review done by Smallnetbuilder
Fantastic Range
IGN, Tweaktown and CNET are all saying the same thing, the X4S has great range, with CNET claiming that the connection comes through after 3 walls and 200 feet.
Dual band and future proof
With both 5GHz and 2.4 Ghz, MU-MIMO and 160 Mhz support, the X4S will stay ready to serve future wireless devices for a good long while.
What's 160 MHz?
By combining two standard 80 MHz frequency channels on the 5 GHz band, routers that are capable of 160 MHz will be able to produce even faster throughput speeds, but right now, no devices use the 160 MHz frequency.
The X4s can serve AC/N/G/AB type wireless so even old deviceours will have something to connect to, looking at you Nintendo 3DS.
The X4S will actually get better over time as more devices properly use MU-MIMO, meaning the X4S will not have to switch single stream routing as often, what this means is you'll get better concurrent throughput and responsiveness.
Smart software features
The X4S features something called Smart Connect, which is essentially band steering, allowing for high priority devices to get priority access to the faster 5 GHz while farther or low bandwidth devices connecting to the 2.4 GHz band for more connection reliability.
The X4S also packs quality of service (QoS), which is a standard on all routers now, to give distinct priority to types of traffic or devices. For example, if you want to make sure game traffic gets priority for router over HTTP web browsing traffic,  QoS is where you can set that up. Netgear takes it a step further by introducing Dynamic QoS, the router will detect the high usage devices and automagically give them priority over a web-browsing tablet for example.
Nice additional hardware features
With 2 USB ports and an eSATA port, the X4S can serve an external hard drive as a NAS or network enable a USB printer.
The X4S boasts the standard 1 Gigabit WAN, 4 Gigabit ethernet ports for wired connectivity.
Flaws but not dealbreakers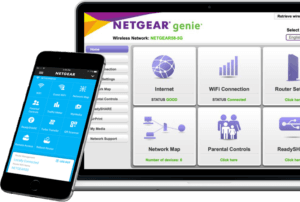 A lot of people dislike Netgear's genie firmware, citing that it's ugly and not intuitive to use. It's still serviceable despite it not being as sleek as, say the Asus AC5300's interface.
If the look bothers you a lot, the X4S supports open-source firmware software like DD-WRT and openWRT. If you're unfamiliar, DD-WRT is an open-sourced firmware that you can install on supporting routers and completely overwrite the manufacturers firmware. This enables new features, better settings and often times better security. Find out more about DD-WRT here:  https://dd-wrt.com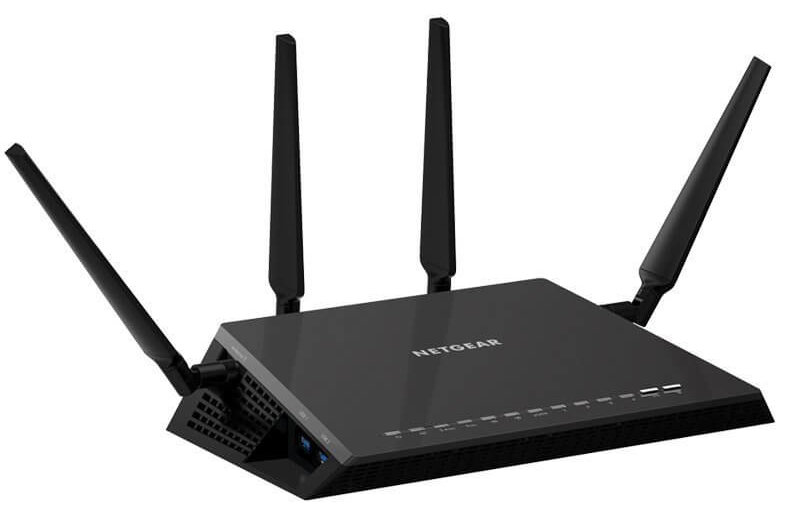 The router is not exactly minimal looking, it's not as gaudy and spidery as the Asus 5300 but it definitely would stand out in a living room. It's not absolutely terrible and the X4S has a smart button on the back that allows you do disable the flashing LEDs if you don't need to see those all the time.
Who else likes the Netgear Nighthawk X4s
Smallnetbuilder gives the X4S its #1 spot in their Router Ranker. NETGEAR's R7800 is Smallnetbuilder's top performance-ranked choice.
Tweaktown gives the X4S its must have award. "The Bottom Line: Netgear's X4S is as far ahead of the curve as a router can get at this point. With 160MHz technology being the next full step ahead for large performance increases, this router is ready to handle whatever you throw at it."
IGN gives the Netgear Nighthawk X4S a 9.3/10. "The Netgear Nighthawk X4S is a blazing fast AC router with next-gen features and class-leading performance."
On Amazon, the X4S has a 4.5 star rating over 2000 plus reviews.
Netgear Nighthawk AC1750 – Budget pick
You should get this router if you live in a smaller place with not too many gamers playing at the same time. The Netgear Nighthawk AC1750 is still a dual-band  router sporting good speeds over 5 Ghz and 2.4 Ghz bands. What it's missing are MU-MIMO and generally a slower CPU and RAM meaning that adding a bunch of devices will bog the router down.
Technical Specs
| | |
| --- | --- |
| WiFI Bands | Dual (2.4 GHz and 5 GHz) |
| Band Speed | 450 Mbps/1200 Mbps |
| Processor Speed | Dual 1 GHz |
| RAM | 256 MB |
| Antennas | 3 |
| LAN Ports | 1 gigabit WAN, 4 LAN |
| Other Ports | 1 USB 3.0, 1 eSATA |
| Beamforming | Yes |
| Bandsteering | Yes |
| MU-MIMO | No |
What we liked
Affordable
Still fast and reliable
Can handle a good amount of devices
 Perfect for solo households
What we didn't like
Doesn't have MU-MIMO
Slower CPU won't handle a lot of devices at once well
 Otherwise, the
AC1750
is very capable and will serve your present needs very well. It features a Broadcam 1 GHz dual core processor with 256 MB of RAM. The
AC1750
is rated for 1300 Mbps on 5 GHz and 450 Mbps on 2.4, these speeds more than enough for all current day applications, even at real world rates. It still packs beamforming, band steering and dynamic QoS.
The AC1750 packs the same 1 WAN, 4 LAN 1 gigabit ports. It features 1 USB port instead of two.
Ideally, if you're a small household or don't have very many concurrent devices under use, this is a good pick for you considering the AC1750 only costs around $100.
Asus AC5300 – Pick for heavy users with a lot of devices
You should only consider the Asus AC5300 if these apply:
You have 15+ heavy usage devices going at the same time
You want a dedicated gaming/guest WiFi signal
You just feel like spending money, the AC5300
The Asus AC5300 is a beast of a router, it's a tri-band router, with one 2.4 GHz band and two 5 GHz bands. The 2.4 GHz band is rated at 1,000 Mbps and the 5 GHz bands are 2,167 Mbps each.
Technical Specs
| | |
| --- | --- |
| WiFI Bands | Triple (2.4 GHz and 2 x 5 GHz) |
| Band Speed | 1,000 Mbps/2,167 Mbps |
| Processor Speed | Dual 1.4 GHz |
| RAM | 512MB |
| Antennas | 8 |
| LAN Ports | 1 gigabit WAN, 4 LAN |
| Other Ports | 1 USB 3.0, 1 USB 2.0, 1 eSATA |
| Beamforming | Yes |
| Bandsteering | Yes |
| MU-MIMO | 4×4 |
The major difference between this router and the X4S is the ability to handle more devices due to its triple bands. The AC5300 packs all the nice to haves of a premium router: 4×4 MU-MIMO, beamforming, band steering, and adaptive QoS.
It has the name number of ports as the X4S, 5 total gigabit ports, 2 USB ports.  The AC5300 also features the ability to link two gigabit ports into one connection to create a 2 gigabit ethernet connection.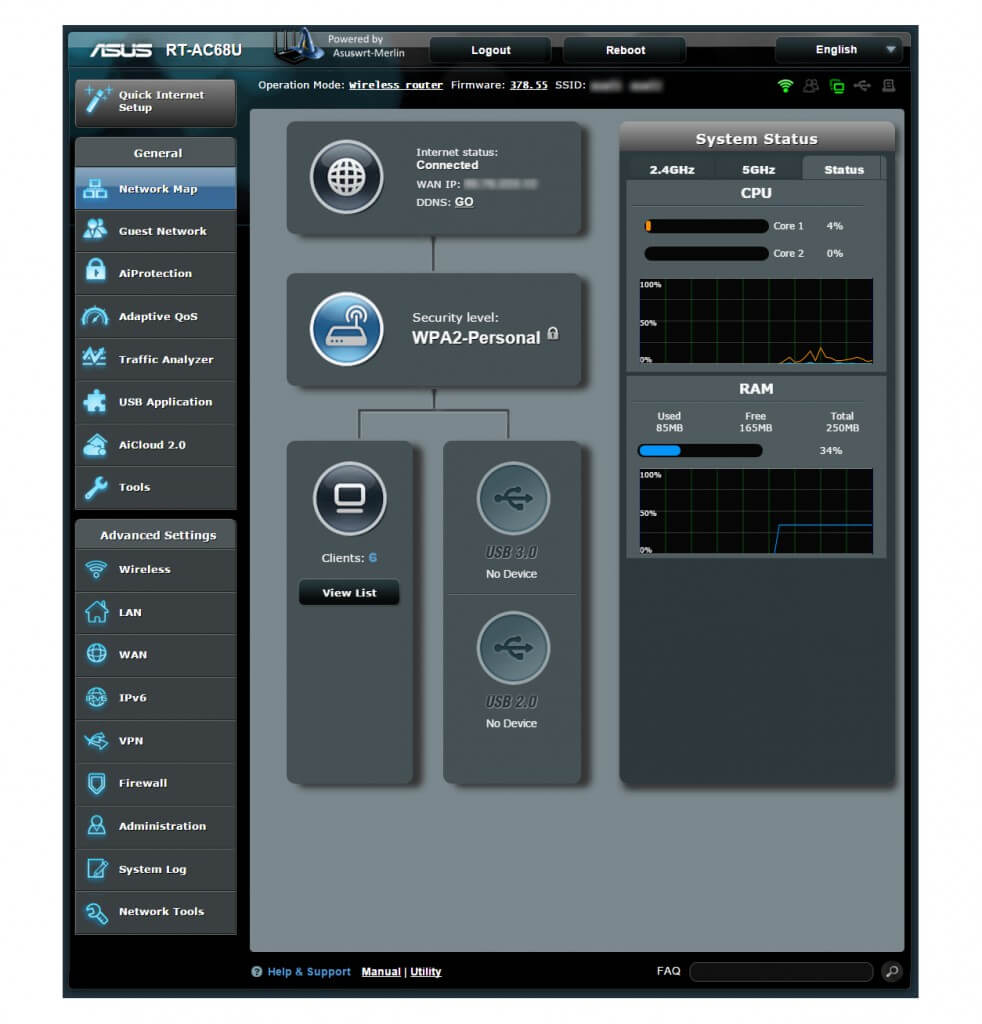 The other advantage that the AC5300 carries is a much better out of the box firmware experience, it's much more polished and game-ey compared to the X4S interface. The AC5300 has built in WTFast GPN compatibility if you have that service.
There are a few models that are even more powerful (and expensive) than this router, at this point in time, there's no reason to take a look at those routers, they're exceedingly expensive and most gamers will not get good use out of them.
Do you really need to upgrade your router?
That Linksys WRT54GL has been a steady soldier and has been by your side as you've gamed. The speed rating on the router seems fine, 54 Mbps is plenty, it's faster than my internet connection! Older routers can present multiple issues:
The labelled connection speed is never real-world, there's overhead, interference and walls, also 54 Mbps isn't enough for certain streaming, ex. Plex at Bluray 4K
The CPU and ram on these routers is very limited, bringing in 5+ devices onto an older router at the same time will likely cause the old router to choke.
If your router is 2.4 Ghz only, 2.4Ghz is a very crowded, having multiple bands will allow you to get the cleanest signal possible at home.
What to look for in a gaming router
Tri-Band, Dual-Band, and Single-Band.
Dual band and Tri-band are newer technologies that allow routers to send more than one wireless signal.
One of the advantages to this is that you can have networks coming from the router that are allocated for specific purposes. For instance one network could be for internet and mobile device use while another could be password protected and dedicated purely to gaming devices.
This means guests can use Wi-Fi and split bandwidth to browse the internet while a dedicated stream is running uninhibited by public use.
Dual-band is the minimum level of router you should be looking for.
MU-MIMO
Routers traditionally could only send data to one device at a time, they got around this limitation by switching switch between devices so fast that it appeared two or more devices could receive data at the same time. When more than 4 or 5 devices would connect though, the internet would slow down as the router struggled to switch between that many devices and cause a lot of lag.
MU-MIMO or Multi-User-Multiple-Input-Multiple-Output is a fancy way to fix that. With MU-MIMO devices are concurrently allocated bandwidth. This can dramatically increase speed when a router is dealing with 3 or more devices. MU-MIMO only works on the AC band and not all devices support it, but all devices benefit with even a few MU-MIMO devices in the network, all devices wait less time to receive data. 
If your network has a bunch of devices, you should definitely look for a router with MU-MIMO.
Beamforming
A router with beamforming has the ability to focus WiFi signal towards specific devices instead of blindly radiating signal in every direction. Beamforming will give you a stronger signal at greater distances, you want this.
5.0 GHz vs. 2.4 GHz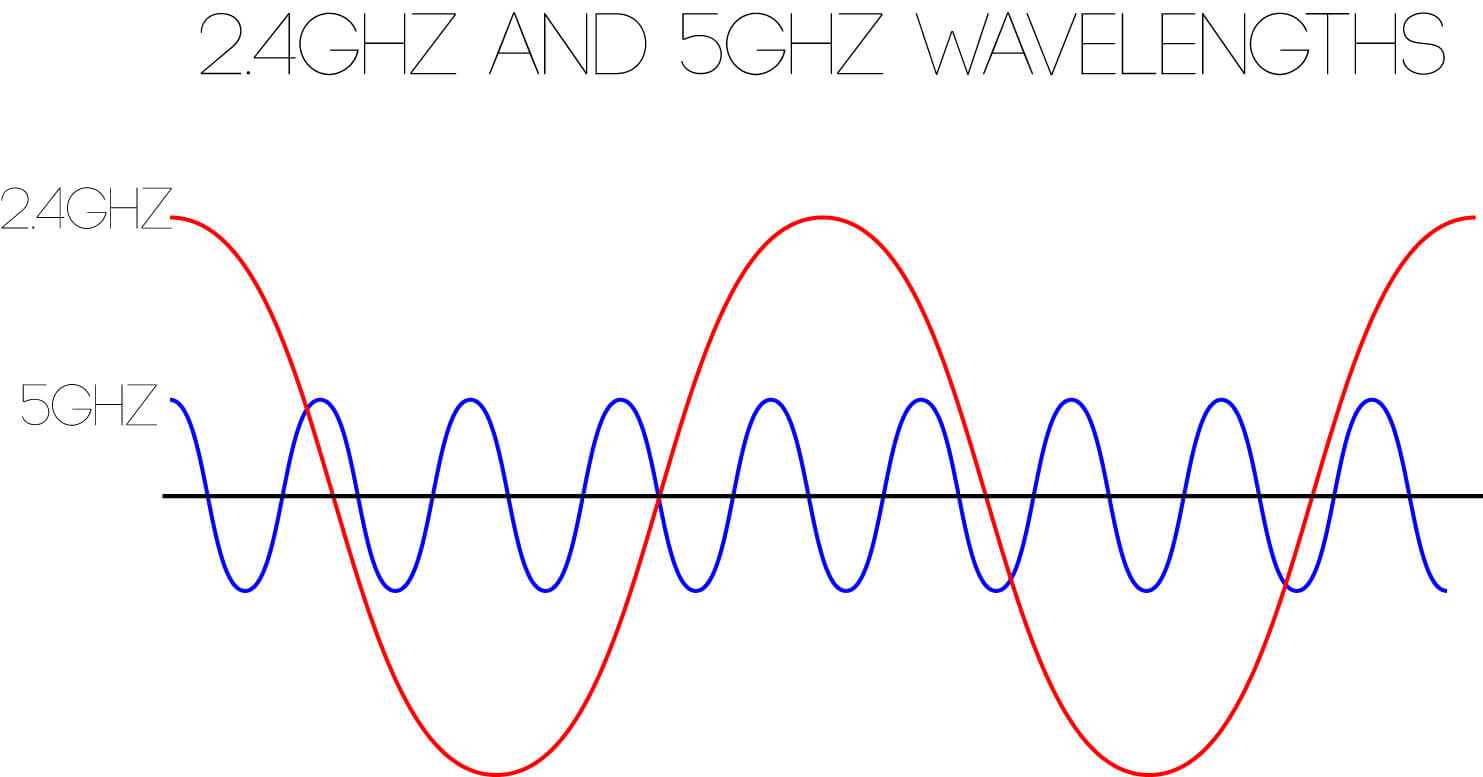 Newer routers have multiple frequency options for Wi-Fi signal, usually 2.4 GHz and 5.0 GHz. Neither frequency is necessarily better.Instead each frequency has a different purpose.
The 2.4 GHz band has a wider range and is great for sending internet throughout and entire house. This comes at a small cost in speed. 2.4 GHz is a very popular band, a lot of devices use it and therefore the 2.4GHz band can have a lot of interference, which means you slower speeds.
The 5.0 GHz band can carry much more bandwidth but has a smaller range. 
AC1900 vs. AC3200 vs. AC5300
These terms are mostly marketing terms to indicate what a router can do. This is usually the total cumulative bandwidth that a router can provide, you shouldn't use this number as an evaluative measure. 
Example: AC5300 = 1,000 Mbps (2.4 Ghz band) +  2,167 Mbps (5 Ghz band) + 2,167 Mbps ( second 5 Ghz band)
What these numbers indicate usually is the general tier of router, an AC5300 would be considered a higher-end router than a AC3200 router, this doesn't necessarily mean its a better router when considering use case, price and practical speeds.
Range
Speed is no good if you can only get it right next to the router, a good router should be able to cover a large amount of space without significant  impact to the quality of connection.
In larger homes with multiple floors, a single router isn't likely to cover the entire house regardless of placement. This is where using your old router as a repeater or getting a dedicated range extender like the NETGEAR Nighthawk AC1900 would be valuable.
Larger houses could also benefit from using a mesh WiFi system, instead of one big honking router, you have a cluster of smaller routers that serve the same signal to all parts of your house. We're a fan of the Netgear Orbi.
Software
Router software should be fast, full of features and easy to setup. All modern routers should be serviceable in this regard.
If you have a lot of bandwidth hungry devices, be sure to sccet-up Quality of Service.
Quality of Service is an underutilized feature in modern routers that allows you to pick and choose which processes are given the most bandwidth.
By allocating more bandwidth towards gaming you lower latency and get very low ping. This is hands-down one of the MOST important features for a new gaming router.
If your family uses the Wi-Fi often for downloading and splits the internet among several devices, QoS allows gaming to take the forefront.
Router Setting Tips
There are hundreds of router settings in a router's firmware. Here are some you need to pay special attention to.
Security
You essentially have to use WPA2 with AES encryption for your WiFI signal. Older security measures like WEP can easily be cracked by anyone sitting near your WiFI.
If your router allows for a guest network, enable it and exclude that network from your home network to avoid any leakage of network files.
Make sure to change the default login to your router as well away from the admin/admin, root/password, root/admin combos that your router ships with. Change it to something that an intruder couldn't easily guess.
Channel Settings for WiFI
You want to avoid congestion when beaming your WiFi. Choose a channel that has fewer competing signals so you get maximum clarity. You can use a smartphone app to measure noise on each WiFi channel, we like WiFi analyzer for android and unfortunately, there aren't good options for iOS, there is iStumbler for OSX and >Netsurveyor for PC.
DNS
By default your router will use your ISPs DNS settings. DNS servers are the servers that name IP addresses into domain names. The quality of your DNS depends on which ISP you're on, but according to >reddit and other places, some publicly available DNS can great improve your ping and packet loss.
One of the most well known and well regarded DNS servers is googles. To set your router for example to use Google's DNS find your network settings page on your router and set the DNS server ip to 8.8.8.8 or 8.8.4.4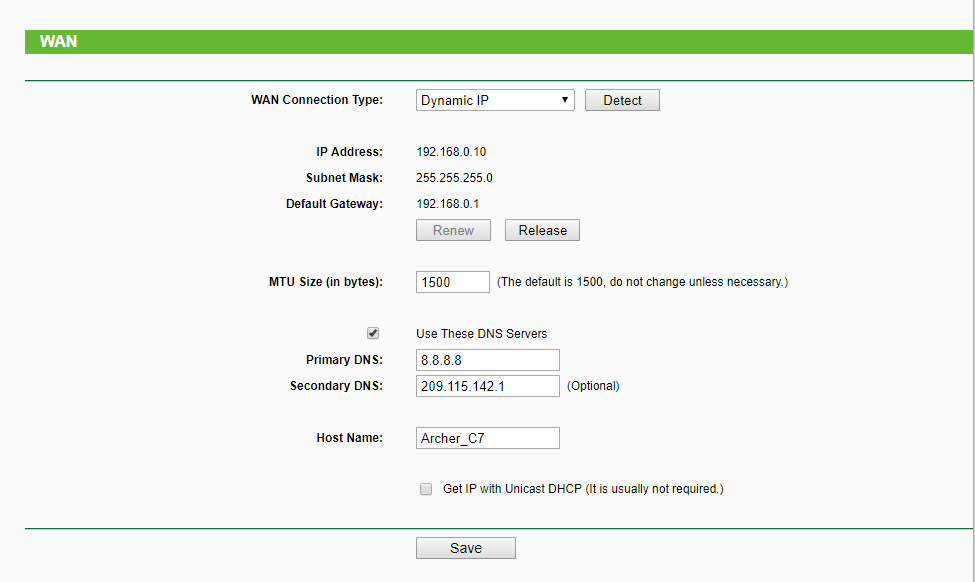 Router Positioning
Try to position your router near the center of your household, this ensure that your router will best cover the entirety of your location.
That's it! If you have any router questions or want a specific recommendation feel free to comment below!