Audio makes a huge difference whether you're a competitive or an avid story driven gamer.
A good headset makes sure you don't miss a single foot step in multiplayer or completes the atmosphere in a single player game.
Most headsets made for gaming suck, they have poor audio detail compared to regular headphones, cost more and have gimmicky features like RGB lighting or paintjob to make them "gamer".
There are a few that stand out, after a ton of research we're pretty confident that the HyperX Cloud II is the best gaming headset you can get for the money.
After spending days and weeks scouring the internet for opinions and reviews on gaming headsets, the best headset for the money is definitely the Kingston HyperX Cloud II, it's one the only headsets worth considering with great audio quality, an excellent comfortable fit and great connectivity all in a affordable  $100 package.
The Kingston line of headsets is essentially a modified Takstar Pro 80 featuring Beyerdynamic drivers,the Takstar headphones are a well known budget headphone that produces an even balanced sound with good bass and clear trebles, it's a great headphone for the price.
The headset is constructed out of aluminum and deliver a comfortable clamping force and fit. The earcups are made out of good memory foam and come with two cover options, velour and leatherette. The Cloud II comes with a detachable mic, a USB connected sound card, it suits console and PC gamers alike. We will repeat, at $100 it's a no brainer to, at the very least, consider the Cloud II.
The Cloud II is not the only option out there. The HyperX Cloud itself line has multiple options that can suit a smaller or bigger budget. The HyperX Cloud Core takes away the USB connectivity, the velour covering option and some other things while delivering the same great audio and comfort for only $59.
The Sennheiser Game Zero headphones provide more audiophile level audio with a great soundstage while combining a high quality microphone and great comfort in one package. This is a great pick if you want a more defined audio experience than the Cloud II.
You want to look at the SteelSeries Siberia 800 wireless headset cables aren't your thing. It has good audio quality, a rarity in wireless headsets, but has some great quality of life features like hot swappable batteries and connectivity to basically everything gaming device out there.
Unlike our other posts, there are only a few great dedicated headsets out there, we feel like we've pinpointed the few you should consider, but of course read on so you know what to look for and to make sure we've done our homework.
Table of Contents
Check Price on Amazon
Last price on Amazon:$99
Technical Specs
| | |
| --- | --- |
| Driver size | 53mm |
| Connection type | 3.5mm or USB |
| Frame Type | Aluminum |
| Ear cushion material | Memory foam with velour or leatherette |
| Controls | On USB control box |
| Microphone | Detachable w/ noise cancellation |
Our pick
It's been the king for a while, the HyperX Cloud II is the best all-in-one headset you can get. It's proven over time as the a comfortable, durable and great sounding headset and it can be had for under $100 (as of the time of this writing). This is a very clear cut winner, headsets in near price range won't even come close to performing as well as the Cloud II.
Impressively comfortable
This might be the most stand out aspect of the Cloud IIs, they're supremely comfortable. The earcups on the HyperX Cloud are 100% memory foam so it won't clamp down and fatigue your ears in a marathon gaming session. The earcups also come with the option of a leatherette or velour cover, meaning you have the option to choose between a more isolated sound versus a more open airy sound with the covers.
Combine the high quality earcups with a good adjustable headband with the perfect clamping force and the Cloud IIs deliver comfort for hours of gaming.
Legit, good quality sound
The Kingston HyperX Cloud II is a modified Takstar Pro 80, a great sounding headphone with 53mm Beyerdynamic drivers, it packs a good solid boosty punch in the low and sparkles on the high-end. The headset works great for games, but it also performs pretty well with movies and music as well.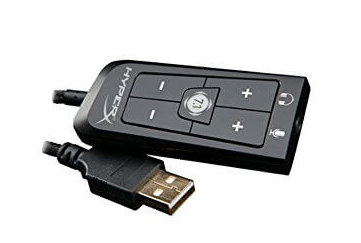 This is a closed headset, meaning that this headset will isolate outside sounds from coming in and your gaming sounds from leaking out. The Cloud II will provide a stronger bass response at the sacrifice for a bit of soundstage size.
With a good packed in USB sound card, the Cloud II offers dynamic echo and noise cancellation for the microphone, avoids any electrical interference from your computer and produces 7.1 virtual surround sound if you want it. It's really a steal of a headset.
Even without the USB sound card, The Cloud II performs very well on 3.5mm devices like the PS4, Xbox and iPhone. The drivers hold up to all kinds of games, music and video thrown at it.
Good detachable microphone
Nobody is going to have trouble hearing you. The detachable mic is flexible so you can position it right at the corner of your mouth to avoid breathing noises while capturing your voice perfectly.
Here's a video with the audio coming from the Kingston HyperX Cloud II's microphone.
Design
There's a lot to like about the design of the Cloud II, starting with the fact that it's understated enough to be worn outside of gaming environments. The Cloud II comes in 2 colourways, a black-and-red and a gunmetal model with contrast stitching in the padding.
The non "gamer" design and the detachable microphone on the Cloud II means you can use this headset as your daily driver headphones if you so choose.
The frame of the headset is constructed out of aluminum, with a high quality braided cable and brushed aluminum earcup covers.
The included USB video card packs all the audio processing and the remote control with the options to turn on 7.1 audio and volume controls for the mic and headset. We very much prefer this design over having the control buttons on the headset itself. One nice feature to have would've been a flip mic up to mute feature or a mute button on the controls itself.
As an added bonus, Kingston throws in a padded carrying case so you can take them on mobile or remote gaming sessions.
Durability
The Cloud II has a 4.2 stars out of 5 with over three thousand reviews on Amazon. The majority of low reviews report some issue of sound crackling or bad wiring causing a speaker to give out or a mic to stop functioning. Kingston seems to be very responsive to issues on r/hyperx. With the sheer amount of sales the Cloud II has, there are bound to be some headsets breaking down, I wouldn't consider this a concern.
Who else likes the HyperX Cloud II
This are a very popular headset,
The Wirecutter has picked the Cloud 1 as its favourite headset, it shares the same drivers but the Cloud 1 doesn't include some of the newer features of the Cloud II like the USB sound card.
IGN says it is one of the best headsets they've ever used.
Trusted Reviews gives it a 4.5 stars saying the Cloud II offers almost too much at its price point.
Flaws but not dealbreakers
While the Kingston HyperX Cloud IIs have great audio qualities, it's not flawless, its closed back cups means that the headsets aren't perfectly neutral and accurate, which some may consider a flaw. At the highest trebles the headset will have some trouble with the high pitches.
The 7.1 virtual surround sound is an appreciated add-in, but it produces mixed results in providing a true surround sound experience. That's okay though, the default audio on the Cloud II does very well in producing a stereo surround effect, you'll definetely know which direction bullets and footsteps are coming from.
The USB sound card is missing a mute button. Other than the above there isn't much to dislike about this headset.
Another pick: create your own gaming headset stack
headphone + microphone + dac/amp
With the limited amount of actually good headsets out there, gamers who really care about audio quality can turn any good headphone into a gaming one by adding a microphone to their set up.
Another step further in audio fidelity would be to throw a USB DAC/amp combo to produce even clearer sound at all pitch ranges. In short, DAC stands for digital to audio converter, it converts your computer 0s and 1s into sound that your headphones can understand, while amps power your headphones to produce more volume and punch. The end result is a much better sound than what you can get with your computer's onboard sound. Read more about amps and DACs with this guide from Lifehacker.
We'll recommend three stacks for low, medium and large budgets for gaming, pretty much any option will outperform most, if not all, gaming headsets. The only downside is that you have to get all of it separately and there are more wires to deal with.  Feel free to mix and match as you wish.
Low budget gaming audio stack
This stack delivers on audio quality while not hurting your wallet too much. The DAC/Amp combo is optional, but will make your headphones sound much better while avoiding any electrical interference from having the audio processed inside your computer case.
We would recommend going with the Superlux HD681 for the open soundstage and clarity in the mid and high ranges, the Superlux punches well above their price range in audio quality. If you prefer isolation and more bass then the Tascam TH-02 are for you. Both of these headphones have large fan bases as value headphones from communities like Head-fi and /r/headphones.
The Zalman Zm-Mic1 mic is a basic clip on mic that you can attach to your headphone cord or shirt, it provides good audio capture, it does however have an absurdly long and thin cord that can get in the way and will eventually wear out.
The FiiO e10K is the entry level DAC/amp combo, it's extremely popular because of its simplicity but also its ability to produce quality sound at a reasonable price.
For as little as $30 total you can get a pretty decent quality set up that will definitely provide a great gaming audio experience.
Medium budget gaming audio stack
This is where you'll maxout your bang for buck, great audio all around for any purpose, but particularly for gaming you'll hear things you never noticed before. Any more money spent beyond this point is diminishing returns.
The two headphone choices are extremely popular for good reason, they're pretty much the best sounding headphones in their price range and category. The Sennheiser HD598 has an excellent sound stage and produces extremely vibrant, clear sound while the Audio Technica ATH M50X produces a really fun sound with booming bass, you can't go wrong with either.
The Antlion Modmic, a system of magnets that allows you to attach and detach a boom mic to any headphone to convert it into a headset. It's a much more elegant microphone solution compared to the Zalman mic.
The modmic outperforms the Cloud IIs included mic with unidirectional capture, it's not quite as clear as our next step up, but it's more than good enough for game comms and even can perform will if you stream or podcast.
Schiit Fulla 2 is a step up from the FiiO E10K being able to power bigger drivers and generally produce a higher quality sound. What this means is that the Fulla 2 will provide more precise tones and pitches when compared to the E10K.
Higher-end budget gaming audio stack
For the people with more money to spare and with very discerning ears, the sky's the limit on how much you want to spend, our recommendation here will be a step up from the medium budget, but with what we consider reasonable spending, you still need save some money to buy a gaming monitor right?
These two sets of headphones are great sounding, the Sennheiser HD600s are a step up from the HD598 in clarity and accuracy, while the V-Moda M100 are some of the bassiest, most-fun headphones on the market.
The Antlion Modmic makes a return here, it's simply a great option at all price points, but if you prefer to have even higher quality audio, or if you stream or podcast as well, then getting a Blue Yeti USB microphone might be the option for you, this microphone has multiple directional settings and will pick up your voice crystal clear.
Audio GD is a chinese manufacturer that produces some of the best value DAC/amp combos out there, this box will basically drive any headphone you throw at it with ease. The Audio GD NFB is really for enthusiasts, you'll have to buy it from their sketchy looking website if you want it, otherwise the Fulla 2 still does a great job here.
Other picks
Best wireless gaming headset
The Steelseries Siberia 800 are the best wireless headphones you can get on the market, at $200, you're definitely paying a wireless premium over wired headphones but the ease of life features and audio quality make this headset stand out.
The Siberia 800 produces good quality sound with good accuracy and clarity at the high ranges. Being a closed headset, the Siberia 800 also produces very loud and boomy bass, great for shooters and other cinematic games.
This headset is comfortable with large plush leather ear cups and an adjustable band with strong clamp force, the Siberia 800 is going to stay on your head.
Its standout feature has to do with how it manages battery and its connection options. The Siberia 800 comes with a base station to connect to the headset, this base station is responsible for connecting to your PC, PS4, Xbox one or whatever you choose but is also the place where you can charge the headset's batteries. The Siberia 800 comes with two batteries that can be hot swapped, so you'll basically never be left with a dead headset and unable to communicate with your team.
Best sounding gaming headset
No surprise that this is a Sennheiser product, the Game Zero has audio quality that you generally don't see in a gaming headset. This is a headset that gives you accurate audio quality befitting of the Sennheiser name and a best-in-class attached microphone.
With large velvet lined ear cups and open back the Game Zero is extremely comfortable and delivers a large soundstage, open backs are a rarity for gaming headsets. This is the headset to get if you don't want to compromise on convenience or quality.
On the earcup itself you'll find a volume wheel for audio control and the microphone has a lift to mute volume.
Outside of the design and audio quality, there isn't anything else to discuss, it's just a higher quality headphone that does its job well.
Best budget headset for gaming
The little cousin of the Cloud II, the Kingston HyperX Cloud Core is a great headset producing similar great quality audio on the same 53mm drivers. The build quality is also great, though not as comfortable as the Cloud II, the headband is still made from aluminum, the ear cups from memory foam with just the leatherette option. The microphone is still detachable and it all sounds great.
So what else do you lose versus the Cloud II? This Cloud Core is a 3.5mm connector versus the onboard soundcard USB connector. You also don't get the fancy carrying pouch you get with the Cloud IIs.
For $59 it's a fantastic budget option and should be considered if you want to use the onboard audio, or don't care for the USB connectivity and carrying pouch.
Why should you consider a gaming headset
Playing multiplayer games with good audio is a huge advantage.
Good audio is an important edge to have when playing multiplayer games, especially in shooters such as Player Unknown Battlegrounds and Overwatch, the ability to hear footsteps and communicate with teammates make a huge difference in your performance.
In comparison to speakers, good headsets will provide a more immersive audio gaming experience dollar for dollar, are more portable and still adds extra functionality that you might appreciate.
If you live with other people; a wife, husband, kids, roommates or parents, you'll love the ability to game at full volume without bothering them. It also gives you the ability to block out in a noisy environment and focus on grinding your ranks or achievements.
What to look for in a headset
Here's everything you need to know when evaluating headsets.
Comfort
Especially important for those marathon sessions, gaming headsets need to be able to stay on your head without causing any irritation or pinching. When trying headsets make sure you buy from a place with a fair return policy. This way, you can test that the cups are the large enough for your ears and the headband is adjustable enough so it doesn't pinch the top or sides of your head.
Another thing to look for is the type of material used for the headphone cups:
Foam
The standard padding material for headphones, provides adequate cushioning with great breathability so your ears don't get too warm. Foam cushions provide an open listening experience while being cheap.
Memory foam
Like the stuff in mattresses but for your head, memory foam will hold a shape that forms better to your natural curve over time providing a more comfortable fit. Memory foam also lasts longer than regular foam.
Velour or Velvet
Velour can wrap either foam or memory foam cushions and provides an even more plush, softer feel on the ear. Velour still allows for ears to breathe for long gaming sessions. It's this author's personal favourite.
Leather
Leathers can come in a range of grades but generally leather allows headsets to have better sound isolation to provide better sound isolation. Leather is probably best if you play in a noisy environment.
Audio quality
What sounds good to you might be completely different from someone else, but in general some audio qualities seem to be consistent across a large portion of people.
Accuracy
Headphones should reproduce sound as accurately as the original creator of the sound intended. A good headphone should be able to reproduce a wide band of frequencies accurately, headphones with poor accuracy will distort at high or low frequencies often and cause a lot of fatigue in your ears.
Closed or open: isolation, bass and soundstage
Particularly important for gaming, soundstage refers to the ability for a headset to produce sounds that allow you to perceive width and space. You want a headset with a wide soundstage so you can perceive audio objects left and right of you, ahead and behind.
Open headphones are usually better for producing large soundstages at the sacrifice sometimes of bigger bass and sound isolation.
Closed headphones are preferable when you game in a noisy environment or simply prefer big bass.
Here's a video from the awesome MKBHD explaining the two types if prefer video:
Clarity & Tone
A headphone with good clarity means that the audio comes out crisp and sharp, with great responsiveness. For example, a headphone with great clarity will play a violin string sound as it was in the same room. Poor clarity would make audio sound like it's coming out of a tin-can or paper tube roll, it sounds artificial.
Headphones, like monitors, can run warm, cold or neutral, while a lot of purist prefer neutral to get the most accurate sound, this is up to your preference. Try headsets with a bunch of games and music with wide ranges to find the type of sound you like.
A note about 7.1 surround sound
"True" 7.1 surround sound in headset marketing is all hype. How we perceive sound is based on the delay we at which our two ears receive a sound wave. 7.1 surround sound in headsets have angled drivers to try to simulate distances away, unfortunately with such a closed space in headphones, it's really hard to pull of this effect and you end up with just an echoey muddy noise. Just having a good quality stereo set of headphones are more usually the better bet.
Microphone quality
A good headset has a microphone that delivers clear, easy to understand audio. The mic itself should be flexible and durable while providing directional audio input to prevent too much extra audio coming from mouse clicksc and your loud mechanical keyboard. A detachable mic is always a nice to have if you want to use the headset outside of a gaming environment or in case the mic breaks or gets dirty so you can get a replacement.
Connectors & compatibility
Pretty straight forward, what gaming systems do you want to use your headset with? The best headsets usually come with an on-board sound card and plug in via USB, they're your best bet to be compatible with PCs and consoles alike.
USB connections have an added benefit of avoiding any electrical interference produced by your PC. We prefer these connections over others.
Wireless headphones will never sound as good as wired headphones, but if you're looking for a wireless option, be sure to keep note of range, reliability and battery life.
Durability
A high quality cable that doesn't fray or kink, a flexible boom mic that can be moved around endlessly and hold out up to ragey moments, quality speakers that won't blow out and a headband that needs to be able to wrap around your head for hours.
Upcoming headsets
Unlike mice and keyboards, headsets don't seem to get a lot of pre-release hype, they just get announced and released.
Nevertheless, this market is highly competitive, Logitech recently announced they acquired Astro indicating they're serious about competing. Razer and Lucid sounds just released new headsets in the Thresher Ultimate and LS25 respectively, neither of them are good enough to unseat our picks however.
We will keep on top of new headset releases and update this blog post as necessary, but as of right now the Cloud II is an easy pick for best gaming headset.
Check Price on Amazon
Last price on Amazon:$99
Technical Specs
| | |
| --- | --- |
| Driver size | 53mm |
| Connection type | 3.5mm or USB |
| Frame Type | Aluminum |
| Ear cushion material | Memory foam with velour or leatherette |
| Controls | On USB control box |
| Microphone | Detachable w/ noise cancellation |